420 Tours in America
Now that several states and the District of Columbia have legalized the use of cannabis for recreational purposes, the tourism industry has responded in kind with a budding industry of 420 Tours in America. These weed friendly tours of various cities, especially in Colorado, Washington, and Oregon are becoming popular.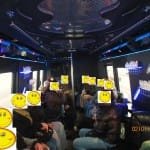 While there are still some barriers to the 420 tourism industry becoming as big as, say, Napa Valley tours of vineyards, the quality and availability of these kinds of adventures will no doubt increase as public acceptance of marijuana as a legal recreational substance becomes higher.
So, for now – what kinds of tours can you expect? Are they worth the money? What should you know before embarking on any of these 420 tours? Read below to find out!
---
Where to Stay
One of the biggest hurdles to 420 Tours in America is becoming more prevalent in any state is the persistence of anti-marijuana prejudices that persist in most major hotel chains. Most hotels will firmly reiterate their no-smoking clause when asked about marijuana use in the rooms or on their property, despite the legality of the substance. If you want to try to stay in a major hotel chain anyway, your best bet is to try to get a room with a balcony, and make use a discrete vaporizer. However, a better bet is to seek out lodging with a service like Airbnb or something similar by using the search phrase "420 friendly" when looking for a place. Also, a handful of independent lodgings have popped up in major cities, such as the Bud & Breakfast in Denver.
---
What to Expect
There are a variety of different types of 420 Tours in America, and the state you are in will also determine what kind of tour you can take. On the lower end of pricing, you can start with a 3 or 4 hours long afternoon tour of your chosen city for between $130-$150. A tour like this would typically include a brief primer on the types and strains of cannabis, a few stops at approved dispensaries, perhaps a stop at a grow facility or maybe even a glass blowing shop if your tour guide is especially artistic. For a more immersive experience, you can make a weekend of it – for $1000, you can have a 3-day 420 tour in Denver that includes lodging, a vape pen on loan for the duration of the tour, and a pot-infused cooking class.
The final verdict, at this point in time at least, is that most of the experiences can be had without the aid of the tour itself – you can probably experience most things on your own as a tourist. The advantage of the tours would be for anyone unfamiliar with the culture of cannabis, or for someone who needs a bit of a hand-held introduction to 420 legality.
Find all of the listed 420 tours in America here on our site.