Ad
The wild hustle and bustle of Las Vegas will look different in 2020. Las Vegas cannabis friendly travel will be ready for visitors that want to see shows, visit the casinos and enjoy the nightlife. Though the doors are opening on The Strip, everything will be different. We have some tips for traveling to Las Vegas in these Corona times.
McCarran International Airport
Though Las Vegas travel has slowed down, the airport is keeping up with the demand for cleanliness. Vending machines sell Personal Protective Equipment (PPE) such as face masks and gloves. Hospital-grade cleaning products are used to clean surfaces. It's strongly suggested that only ticketed passengers and employees enter terminals.
Hotel Check-In
When guests get to their Las Vegas hotel, it won't be a normal check-in system. The Nevada Gaming Control Board requires that all hotels take each guest's temperature when they arrive. Some hotels will use thermal scanning as guests walk through the doors. You also must fill out a symptom self-assessment. Many resorts offer contact-free check-in, and you can use your own room key or your phone to unlock the room. Some resorts offer you a personal kit complete with hand sanitizer, gloves, a face mask, and sanitizing wipes.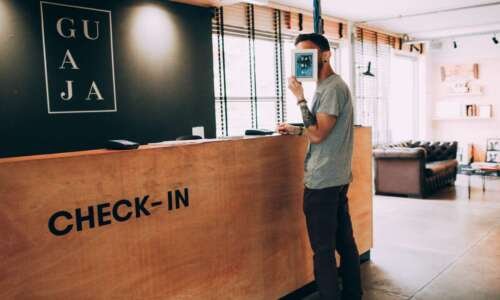 Masks
It's up to you if you wear a mask in Las Vegas. Facial covering are not required for guests. They are required for employees. Many guests in the casinos are not wearing masks as they do their regular gambling. All of the employees, whether at restaurants or the casino tables, will be wearing a mask.
Casinos
Casinos are usually packed with people close together huddled around watching others gamble. Players sit at slot machines playing over and over with others right next to them. This will all be a little different. The games now are placed further apart, and there are dividers. There's wash stations and hand sanitizer placed throughout the casinos. Social distancing is enforced as every other slot machine is closed. The table games will be very different. There's only three players per blackjack table. There's six players allowed at the craps table, four at the roulette table and four at the poker table.
Salons and Spas
Salons and spas will be open with rules. Most of these types of services are open at the resorts. Masks are required at many. The amenities like the steam rooms and hot tubs are not open at this time.
Pools
Las Vegas Resorts pools are open. Many of them do have limited hours. You'll see many people lounging in the sun enjoying their time by the pool. There's still a limitless amount of alcohol you can get as you lounge. Chairs are positioned for social distancing. The cabanas and daybeds are welcome for reservations so you can stay as far away from other guests as possible. The dayclubs are closed at this time.
Nightclubs and Shows
If you want to see a Cirque de Soleil show or your favorite performer, you'll have to wait until Phase 3 opens. Nightclubs, concerts, stage shows, strip clubs, and sporting events will not be open at this time. There is simply no way to enforce the social distancing that must happen for everyone to remain safe yet.
Restaurants, Bars and Buffets
The Strip buffets are famous for their large selection of food. Buffets are not open at this time. Restaurants are opening their doors at 50% capacity. They have six feet between each table. Bars have the same rules. Those famous buffets will be closed until there's a way to keep everyone safe around the plethora of food. You must make a reservation at most restaurants. Guests cannot eat in groups larger than five when dining. All of those in your party must be from the same group. This means you cannot sit at a table with random people you met at the casino. You'll notice there are disposable menus and the napkin-and-utensil set-ups are wrapped in plastic. Be careful, as you may notice a Covid-19 fee on your bill at some restaurants.
Housekeeping
Each company had its own way of cleaning. Now they must comply with the Center For Disease Control, Southern Nevada Health District, World Health Organization, and the local gaming control board's procedural cleaning standards. Housekeepers must refresh all glassware and linens. The resorts must clean the HVAC filters more frequently.
Parking
One way Las Vegas is trying to boost business is by taking away those pesky parking fees. Many casino resorts are waiving these fees. Some have even promised they won't bring them back for a year. This helps people save up to almost $40 per night. The city is doing all it can to bring people in without any extra hassles.
Museums
Most of the museums have their own rules. The Neon Museum is off the Strip. It is mostly outdoors full of famous neon signs. Each person's temperature is taken as they come into the museum. Every museum must limit the number of guests. They also wipe down surfaces once an hour. At the Mob Museum down, visitors are required to wear face masks. Each guest is given bottle of hand sanitizer. Guests may also wear rubber gloves for the interactive exhibits.
Downtown Las Vegas
Many visitors love the Fremont Street Experience. It's in the heart of downtown. Special crews will use a disinfecting fog to sanitize surfaces twice a day. This area is usually stuffed with people. Social distancing is enforced throughout the area downtown.
Big Discounts
One thing most travelers find as they book a trip is a big discount. Las Vegas wants your business, so many resorts are offering steep discounts to bring you to the city. Some are even offering a food and beverage credit.
These tips for traveling to Las Vegas will help visitors as they return to one of their favorite destinations. Though Las Vegas travel will look different, it's still full of life and excitement. You can still expect an escape into another world. That world might be different than in the past, but it's a world full of lights and fun just waiting for you to check out the changes.