I don't know about you but I personally love road trips. Long drives with music a little louder than I'd normally listen to and grooving times with friends and family.
I have been going out on these long drives since I was in high school and it has become a part of my routine. Well, I am glad my work allows me to travel. Other than traveling (and writing, of course), one thing that I absolutely love doing and consider my therapeutic, selfcare session is cooking and baking. I remember how after a long, tiring day at school, I would just come back and bake banana bread and dark chocolate cupcakes. Trust me, that used to help me relax.
Now, I bake for these road trips and trust me my game has gotten better ever since I decided to introduce marijuana in the recipes. In this article, I am going to share my 6 highly appreciated recipes that I believe literally every individual out there would love trying. The best thing about these recipes is that they all are very easy and perfectly match the travel, fun vibe.
However, I find it extremely important to mention that the person who is in charge of driving the vehicle should not eat these snacks and drive.
Since we hire a driver for our road trips, we keep marijuana free snacks for them to make the journey safe and fun. So, it would be suggested to refrain from driving with cannabis as the psychoactive effects of the herb can alter your vision and concentration.
Now, without further ado, let's dive right into the recipes, shall we?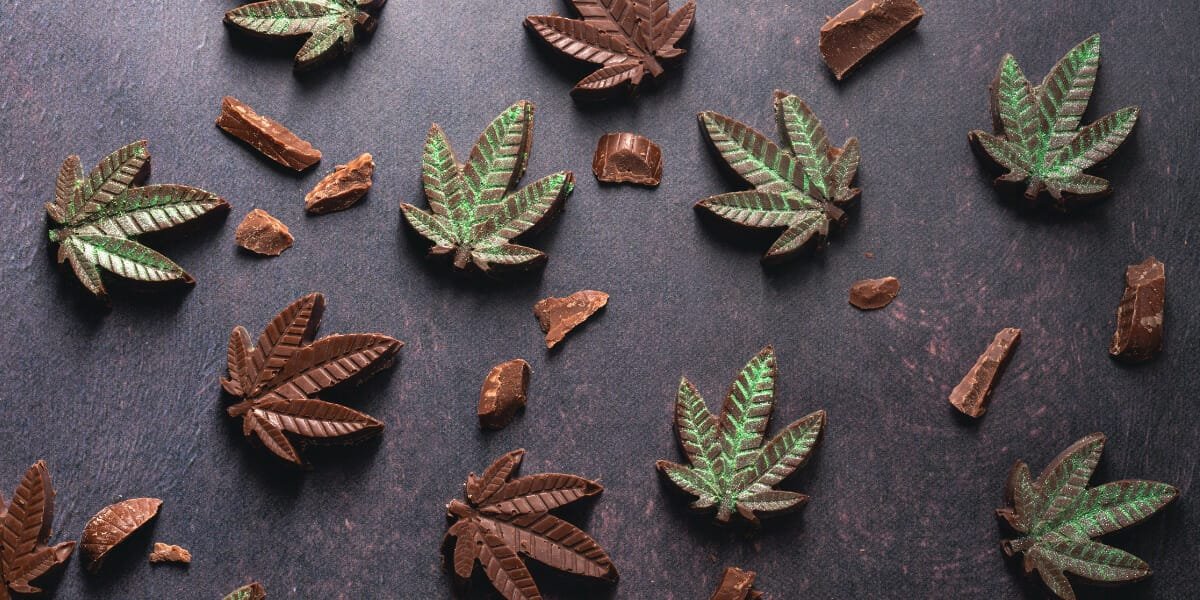 ---
Caramel Bites
There is no trip without candies and chocolates and, well, caramel. I remember I started making caramel bites when I first tried my hand on caramel filled brownies and there was no going back. Accept, now I have started making the cannabis infused version of the caramel bites and they are just amazing.
If you know how to make regular caramel candies, the trick is to substitute regular butter with cannabutter. Other ingredients remain the same.
For those who don't know how to make caramel bites at all, all you would need is
1 cup cannabis infused butter
2 cups brown sugar
1 can condensed milk
1 cup corn syrup or glucose syrup
1-2 teaspoons vanilla extract (if you don't have the extract, you can substitute it with 1 tablespoon vanilla essence)
A pinch of salt (try sea salt if you can)
Simply mix and heat all the ingredients in a deep, thick sauce pan and one the mixture is thick and sticky, pour it into a baking pan lined with butter and parchment paper. Let it cool down at room temperature, demould it and cut into a bite sized shape. Wrap these caramel bites in wax paper and you are good to go.
---
Garlic Biscotti
I am a fan of savory snacks. And for me, there is nothing better than a perfectly baked garlic biscotti. Now, if you are new to baking biscotti, the recipe may seem a little overwhelming but take my word on this, it's just the ingredient list that's big, the process is very simple.
For the recipe you will need:
2 ½ cup all purpose flour, 2 tsp baking powder, salt (as per your taste), dried and crushed rosemary, 1 tsp onion powder and garlic powder each, ¼ cup sugar, 1 cup cheddar cheese, 2 eggs, ½ cup milk, 2 tablespoon cannabis infused oil or cannaoil, and roasted garlic.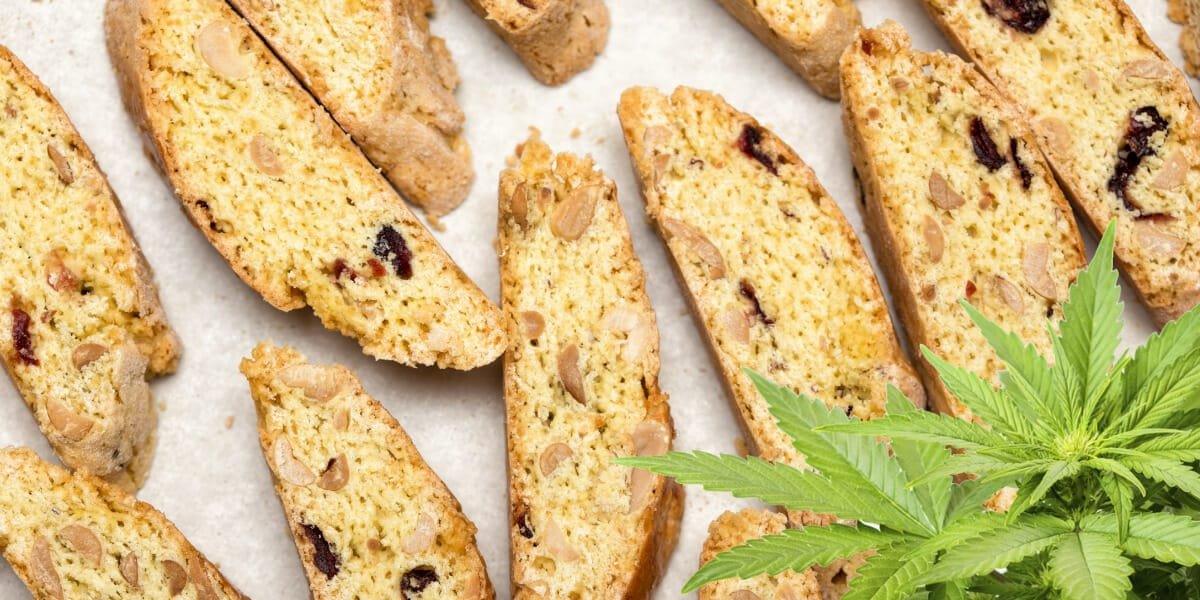 From the above ingredient list everything up to sugar comes under dry ingredients and from cheddar cheese are wet ingredients. Mix dry and wet ingredients separately and then combine them in the form of a dough. The dough should be on a little drier side but still easy to manage and handle.
If you don't know how to roast a garlic, all you have to do is cut the top of the garlic without removing the skin. Coat it with cannabis infused oil and bake it in a preheated oven at 350 degrees for around 25 to 30 minutes or until the garlic is soft, aromatic, and mushy.
Now that you have your dough ready, shape it in the form of a log and toss it in the oven for 30 minutes.
Cut the biscottis and toss them back in the oven but reduce the temperature to 250 degrees and bake for another 10 minutes. This will make your biscottis crispy. Let the biscottis cool or try them hot, I bet you will love them.
---
Quinoa and Corn Muffins
I love how easy it is to bake muffins. I know a lot of you won't agree but that is probably because you don't do it systematically. The best way of making muffins is by taking all the ingredients in two different bowls (wet and dry) and simultaneously preparing the oven and muffin tray. Simply add 1 cup of wheat and quinoa flour each, 1 teaspoon baking powder, ½ cup sugar, and salt in a mixing bowl. In another bowl take 1 egg, ¼ cup melted cannabis infused butter, 1 ¼ cup yogurt, and 1 teaspoon vanilla extract. Combine both dry and wet ingredients in batches while stirring continuously. Now to this mixed batter add cooked quinoa and corn. Transfer this batter to the muffin tray and bake for around 15 to 30 minutes in the oven preheated at 375 degrees.
If you want to increase the dosage, you can choose cannabis infused flour instead of regular wheat flour. However, after that, I will suggest making mini muffins in order to keep the dosage in check.
---
Cannabis Popcorn
There is nothing easier than cannabis popcorn. I guess everyone knows how to make regular popcorn. Well, substitute regular butter with cannabutter and there you have your cannabis infused popcorn. While it is easy to make and consume popcorn, do not forget to measure and control the dosage. The easier they are to make, the easier it is to overdo and get high on them.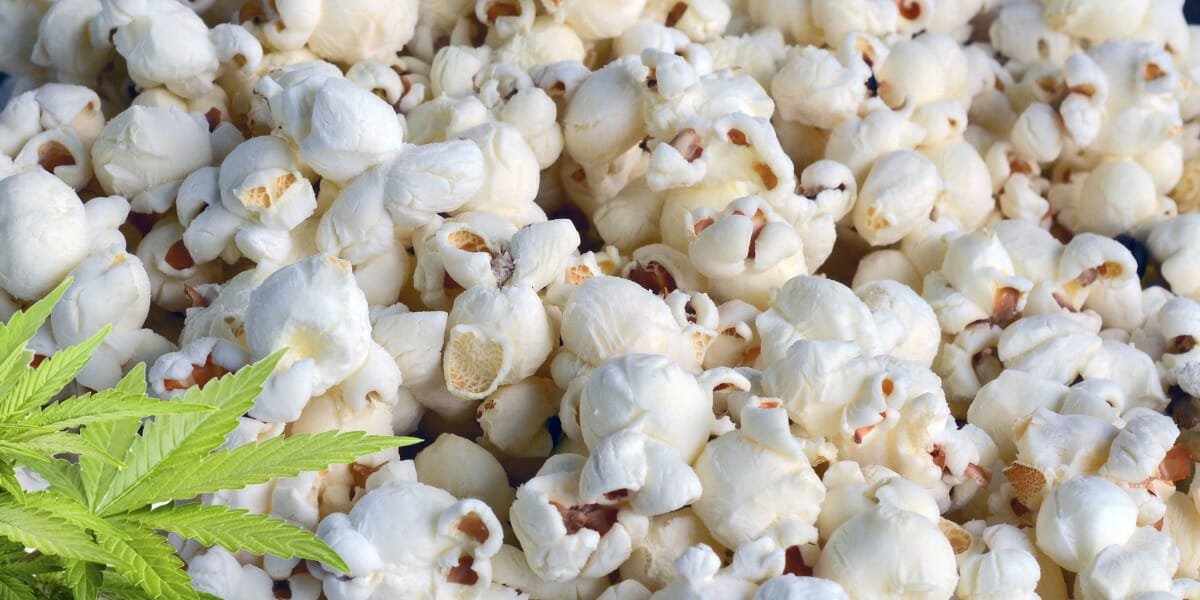 Chocolate Mint Brownies
There are two types of people when it comes to packing snacks for a trip. One who like dry cakes and others who would substitute that cake with brownies any day. I fall in the second category. It's not like I don't like cakes, I just like brownies a little more.
It is not difficult to make brownies as a lot of people believe. Sure, getting the right texture every time is a task but once you know the right proportion of ingredients and tricks to make a perfect batch of brownies every time, you won't find it difficult.
In a bowl take1 cup soft cannabis butter, 8 ounces of dark chocolate, 1 ½ cup sugar, ½ cup brown sugar (this will make a sweet difference), 4 eggs, 2 teaspoon vanilla extract, a little over ½ cup of all purpose flour, ¼ cup unsweetened cocoa powder, and ½ teaspoon salt. Combine all these ingredients and transfer it to a pre lined baking dish. Bake the batch in the oven preheated at 350 degrees for around 35 to 40 minutes. Once the brownies are ready, keep them aside and let them cool. Do not cut them.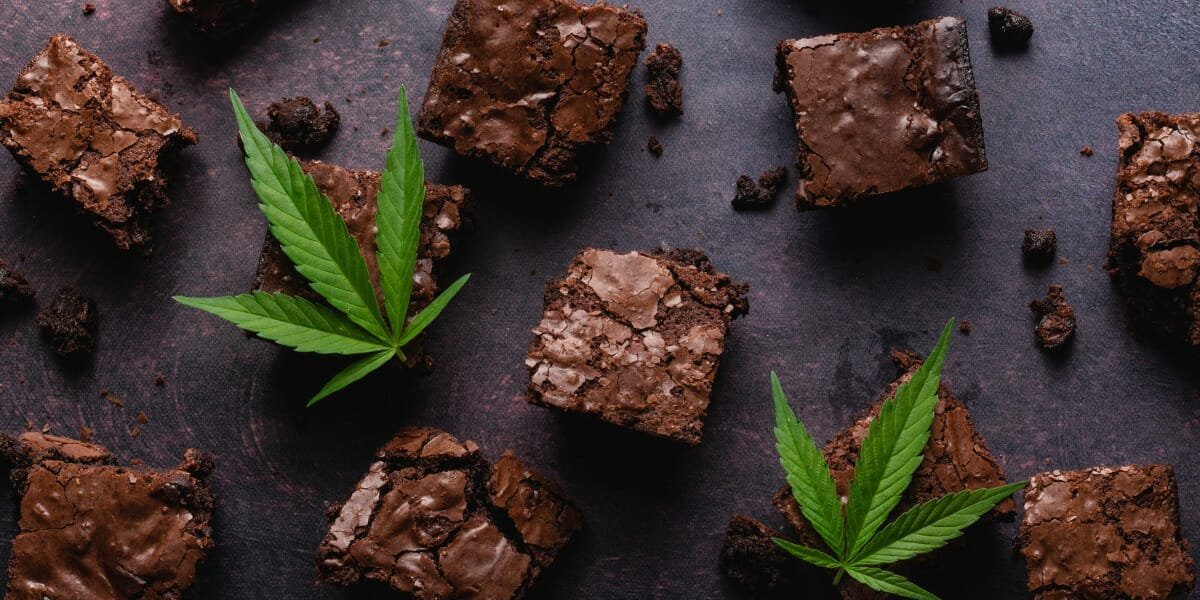 For mint frosting, in a bowl take ½ cup unsalted regular butter, 2 cups confectioners' sugar, 2 tablespoons milk and 1 teaspoon peppermint extract. Mix and beat the ingredients until well combined and fluffy frosting is ready.
Once the brownies have cooled down, pour and frost the mint frosting, allow it to set in the refrigerator for around 2 hours.
For chocolate frosting take a cup of chocolate chips and ½ cup unsalted butter. Melt the ingredients while constantly stirring and your ganache is ready. Pour it on the mint frosting and again let it set and chill in the refrigerator.
Once the brownies and frosting are firm enough, cut them in squares. Your cannabis infused mint chocolate brownies are ready.
If you want to increase the dosage, you can choose to substitute regular butter in the chocolate frosting with cannabis infused butter. But do not use cannabis butter in all three layers. It will probably offer intoxicating effects.
---
Tangy Roasted Chickpeas
I guess this recipe will perfectly pass the healthy snack test. These roasted chickpeas are great for munching even as an evening snack or if you like to munch during office hours. All you will have to do is substitute the cannabis infused oil with regular olive oil while making a potless batch.
In a baking tray spread around 1 cup of white chickpeas (pre baked). You can take more if you want to make a big batch. In a small bowl take cannabis infused oil, add rosemary, salt, chilli powder, lemon juice, lemon zest, and cumin powder. Mix the ingredients and simply coat the baked chickpeas with this oil mixture and bake them for another 40 to 45 minutes.
I highly suggest not increasing the cannabis dosage as one cannot keep a track of the munchies and it gets easier to overdose. However, if you still want to increase the dosage, you can either increase the quantity of the cannabis infused oil a little or simply make an extra potent batch of cannabis oil.
---
Final Words
While these recipes are great for a road trip, you can even try them at home and enjoy a little cannabis buzz on weekends. These recipes can be made by both recreational as well as medical marijuana so if you have a condition and wish to use marijuana as a treatment, you can apply for a medical marijuana card online.