Top 5 Best Electric Dab Rigs of 2023
Hey there, fellow dabbers and wax wizards! Are you on the hunt for the best electric dab rigs to take your sesh to the next level? You're in the right place! With years of experience in the world of cannabis concentrates, we've scoured the web to find the top devices that will make your dabbing experience unforgettable. Sit back and enjoy the ride as we roll through this year's elite lineup.
1. Dr. Dabber SWITCH
Looking to flip the switch on your dabbing game? Meet the Dr. Dabber SWITCH, a piece of tech so futuristic it's like the Apollo 11 of e-rigs. With induction heat technology and 25 calibrated heat settings, this bad boy is designed for those who crave versatility and power.
It's not just about looks; the SWITCH's functionality will leave you amazed with a self-cleaning mode that's hotter than a dab torch. Get ready for liftoff with this game-changing rig!
Completely Leakproof Electric Dab Rig
Fastest Heating Electric Dab Rig
Induction Heating
Pass-Through Charging
Self-Cleaning Mode Burns Away Residue
2. Dr. Dabber Boost EVO
Behold the Dr. Dabber Boost EVO, a space-age miracle perfect for seasoned dabbers and newbies alike. With 6 temp settings, an all-glass vapor pathway, and RGB ambient lighting, this 8-inch tall wonder brings high-end vaping right to your fingertips. This is number two of our top 5 electric dab rigs.
The temperature control sensor ensures you're always on point, and the long battery life keeps the good vibes rolling. Available in Moon White and Eclipse Black, it's your ticket to pure dabbing pleasure.
5 RGB Light Modes
6 Preset Heat Settings
Magnetic Quartz Atomizer
Usable While Charging (Passthrough)
3. Puffco Peak Pro Smart E-Rig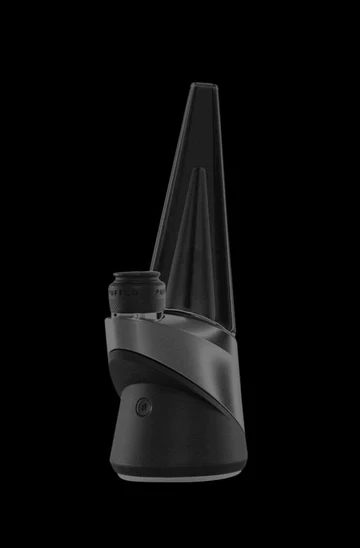 Get smart with the Puffco Peak Pro, the electric dab rig with brains and beauty. From its sleek build to its 40% larger chamber, it's the go-to rig for concentrate connoisseurs.
Hook it up to your phone, choose your heat profiles, and enjoy unparalleled control. With a wireless charge dock and 1700mAh battery, this smart rig takes your dabbing sessions to new heights. Pure genius!
30 Second Heat-Up Time
30 Sessions per Charge
USB Charging Dock Doubles as Stand
Includes All Accessories
Smart Dab Rig – Control Via Bluetooth App
4. RöK Electric Dab Rig
Ready for a full spectrum of flavor and fun? The Pulsar RoK Electric Dab Rig is your dabbing dream come true. With three voltage settings and upgraded internal air paths, it's designed to give you the clouds you crave.
This limited edition, chromatic wonder ensures every hit is a masterpiece. If you like to switch between dabs and flower, this is the rig for you. Get it while it's hot!
3 Voltage Settings
All Metal Body
Boro Glass Beaker Base
Coil-less Quartz & Ceramic Cups
Larger Internal Air Paths
5. The Pharaoh Electronic Dab Rig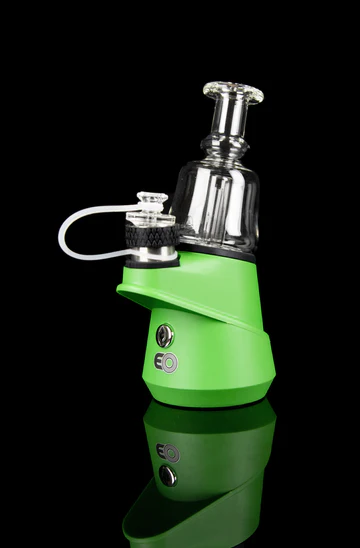 Last but not least, welcome the Pharaoh, the king of affordable, quality dabbing. This lightweight, portable e-rig is a treasure for those looking for smooth and flavorful hits.
With a 2600mAh battery and single-button operation, the Pharaoh is a breeze to use. Pick your preferred color and start enjoying the modern way to dab. Truly a rig fit for royalty!
2 Color Options
Glass Attachment
Packaged in Carrying Case
Single Button Operation
Whats your choice of the best electric dab rig?
And there you have it, the cream of the crop in the world of electric dab rigs. From sleek designs to smart technology, these e-rigs are all about maximizing your enjoyment and taking your concentrate experience to new heights. Which one of these top 5 dab rigs are you taking home with you?
Remember, friends, the world of concentrates is ever-evolving, and these electric dab rigs are here to elevate your journey. Happy dabbing!
What is an E-Rig?
An e-rig, or electronic dab rig, is the modern-day tool for consuming cannabis concentrates, combining technology with traditional dabbing methods. Unlike traditional rigs, which require a torch and precise temperature monitoring, e-rigs are portable and come with preset temperature settings, ensuring a perfect hit every time.
These high-tech devices have soared in popularity among concentrate enthusiasts because they offer a more controlled, convenient, and efficient way to enjoy the intense flavors and effects of dabs. The rise of e-rigs signifies a shift towards a future where technology and cannabis merge, making the dabbing experience more accessible and enjoyable for all.