Top 5 420 Friendly Places to Travel
Since the legalization of recreational cannabis in four states: less people have to make the pilgrimage to Amsterdam which has long been the center of cannabis tourism. I myself have had Amsterdam on my bucket list for many years but it never seem to be in the budget. But with recreational cannabis being legalized quite recently in a few states, the streets have been flooded with cannabis tour buses.
If you want to go to some nice places on your 420 friendly trip to either Oregon, Washington, Colorado, Alaska or Washington D.C. you can do so without breaking the bank.
Here is a very quick run down for you of our Top 420 Friendly Places to Travel.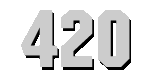 #1 – Oregon
In Oregon lies a coveted city for many stoners due to it's weird hipster vibe that has long been there since before cannabis was legalized. Portland offers a beautiful skyline and some cool stoner friendly places to visit. Such places include: The International Rose Test Garden, Portland Hippie/Dead Head store and The Portland Saturday Market.
#2 – Washington
If you're looking to go to Washington; Seattle in particular, some great place to visit are Uncle Ike's Pot Shop, Cannabis conventions and much more. A recommendation of ours is to use a good 420 friendly lodging company and possibly go on a guided tour.
#3 – Alaska
If your plan is to go to Alaska, get ready to chill because not only is it cold but the people there are very friendly and laid back about cannabis use, for the most part. Considering that most of the activities in Alaska involve going outdoors make sure to bring a jacket and most importantly high quality ATF or some Alaskan Ice which you unfortunately cannot purchase in any recreational cannabis shops yet, unless if you have a medical cannabis card from Alaska. Take a stroll through Tongass National Forest and admire the nature as you smoke a few bowls.
#4 –  Washington D.C
If you're planning on going to Washington D.C. we highly recommend smoking right by the White House, but not really. On a serious note, consuming cannabis in Washington D.C. may be dangerous due to a high concentration of federal agents. But if the positives over weigh the risks then we recommend walking through the United States National Arboretum or go to Metropolitan Wellness Center to pick up some high grade buds.
#5 – Colorado
Lastly, if you're planning on going to Colorado, the Highest State be sure to use a cannabis tourism agency in which you can see grow ops and other cool stuff such as glass blowing to get the full 420 experience or visit a bunch of dispensaries and stay in 420 friendly accommodations.
That is our quick rundown of the top 5 420 friendly places to travel.. .. well I guess they're the only ones. No matter where you go there will always be a journey in front you and what makes a journey better? Cannabis.
Iron Lungs – USAWeed.org contributor.