How to Clean Your Bong
---
So there is some debate on how to clean your bong these days. Dirty bowls with weeks of build up. Stems that barley let air through. How do you get all that crud out easily?  Some say the alcohol of old is toxic and is very hard to rinse out, others have sworn by the water, ice and salt solutions, while others use a combination of the both and of course you have brushes. No matter if your bong is plastic, ceramic, glass or metal you will have to clean it regularly to keep your buds tasting at their finest.
Now most still use the 97% medical alcohol to get their rig to its former beauty. I use it still and it does the job well. Some smokers know how to clean your bong with boiling water, others know how to help you clean your bong without alcohol too.
First lets cover the old school ways.
Boiling
---
#1 – Fill up a large enough pot of hot water to fit the pipe in.
#2 – Place pipe in and start heating the water slowly, like 1/2 heat.
#3 – Once the water begins to boil turn heat off and let pipe sit for 10 minutes.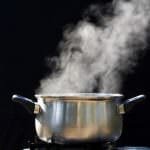 #4 – Then drain water from pan slowly. Use a heat mitt to gently hold pipe.
#5 – Place pipe on a thick cloth to cool and dry.
You will have a stinky pot and house so be ready for that.
---
Rubbing Alcohol
#1 – Get the 97% rubbing alcohol from any pharmacy.
#2 – Fill bong will rubbing alcohol until the dirty water line is covered.
#3 – Take pipe seal holes with paper towels, shake it vigorously for 5 minutes to get all rubbing alcohol all over inside
#4 – Let pipe sit for 3 hours or more, The longer the better.
#5 – Drain the alcohol out and rinse pipe with hot water rinsing repeatedly x 3
If your looking for a bong see our article on Top 10 Glass Bongs.
---
 Now how to clean your bong with solutions…
I also got a few new bong cleaning brushes that I bought at a trade show recently and my pipe is clean as can be. These brushes are a wonderful thing that every cannabis smoker needs. The small ones can get down into the stem very well and the tube brush cleans up the rest. This is how to clean your bong with soft brushes and alcohol but for others that is not an option.
Now in the latest few months we have seen a few non toxic cleaners come onto the market that will get you prized water pipe to its gorgeous self again. These are all natural products that clean and keep your bong clean during us
---
Cleanest Hits has 3 claims to fame:It keeps gunk from sticking to your piece by trapping it in the liquid.By preventing your pipe from getting dirty, you will never have to soak and scrub again! You will want to change out the dirty Cleanest Hits for a fresh pour based on your preference and pipe
Cleanest Hits absorbs 35% more tar than water. With an increased surface tension, larger particulates are captured in Cleanest Hits. Depending on size, shape, and number of chambers, Cleanest Hits traps more tar with more smoke contact.
But now your going to ask me 'Is it safe?' Well yes it is according to the manufacture. Cleanest Hits is made from anti-bacterial, food-grade, and non-toxic ingredients.  Information on the product ingredients here.
To find out more info and to get you bottle of Cleanest hits see the site here.
---
A bong cleaner that works instantly? Well, yes….. Check out the new product on the market Green Hits.
Because you want the most for your money without compromise. Green Hits is made from environmentally sustainable ingredients and is also biodegradable. Once you clean your tool with Green Hits you no longer have to taste the leftover stale resins and tars.
Using Green Hits regularly to remove resins from just about anything except plastic**. This product in a unique category of eco-friendly cleaners making it a great compliment to your cleaning regimen.
Green Hits can also clean nails, wax tools/dabbers, pokers, scissors, nug jars and other tools.
Biodegradable and safe on Glass, Metal, Ceramic and the Eco- friendly Environment.
NON Abrasive, Alcohol Free, and Sanitizes & Deodorizes.
Eco-Friendly, Non-Toxic, Easy to Use, Non Shake No Break Formula
Able to bring back that true shine and clean smell that Green Hits can bring!
Try our glass cleaner once, and you'll be convinced that your pipe is cleanest with our product!
**Not for use on plastic.
To find out more on Green Hits or to pick up a kit, click the button.
---
Now we have also seen ultrasonic cleaners too but the cost can be prohibitive for the normal smoker.
Some stoners go both ways and know how to clean your bong with rubbing alcohol and salt. Whatever your preference the new products will revolutionize the market.
So check out the cleaners we have listed or do it on your own, but make sure to keep your bong clean with our how to clean your bong tips and tricks.