We do a MediPen review and cover the features.
---
MediPen is a UK based company that earned its way to the top of a very competitive market by providing high quality CBD rich oil mixed with pharmaceutical grade coconut oil. They only use the best parts of the medical hemp plant, there were no trimmings, seeds or stalks used to produce this formula. It's no surprise their product has become so popular with consumers who travel a different path and choose to use a CBD vaporizer for their meds especially with MediPen coupons help to help make them so affordable. *Note –  This is a sponsored post.
---
MediPen Customer Feedback Says It All
Search "MediPen review" and you won't find any negatives, because there aren't any. For some the price might seem a bit prohibitive, but with MediPen coupons so easily available that's hardly an issue if quality is what you're after. One sure way to get at the truth of any brand claiming to have the best on the market is by paying attention to customer feedback, and MediPen freely invites you to have a look at their reviews.
Presented as the world's first purely natural cannabis vaporizer it may not be legal on all parts of the globe, but thanks to the organic VG (from coconut oil) in its formula citizens of the UK and Netherlands can enjoy its benefits with no worries about retribution from law enforcement. Research your country's laws, and if cannabidiol products are legal where you live the MediPen is a must have for anyone who'd rather vape a med than smoke or eat it.
Stylish, Practical and User Friendly
A stylish appearance may not have a thing to do with function, but it never hurts to own a vaporizer other people see and admire. Made of brushed metal with a sleek looking black battery, and fitted with a classic, slender mouthpiece the MediPen is certainly no slacker in the looks department. It has no buttons to push, all you need do is inhale to activate the rechargeable battery and when the LED at the end lights up get ready for an instant hit of thick, smooth, tasty vapor.
There is no frustrating guesswork on when your vape may be getting ready to shut down due to lack of power. Regardless of its size, the powerful little battery lasts up to 500 "puffs" before its energy runs out. When the LED flashes three times in a row that indicates you need to recharge. Just screw the USB adapter (included) onto the base of your MediPen and plug it in, once you've got a full charge the LED stays a steady green, and that's it, the pen will be ready to go when you are. It really doesn't get much easier than that.
The MediPen is a good match for those of us with no time for a good "sit down" with our vaporizers, its designers obviously kept busy people in mind when they engineered it. For one thing, cartridges are replaceable so it's very easy to drop a few extra in a pocket when it's not convenient to run home for a spare.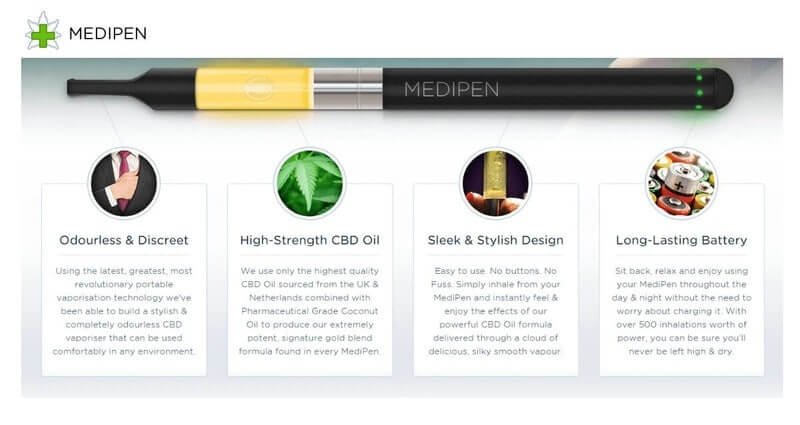 Odor Free and Completely Anonymous
What you may notice most in any MediPen review you read is the fact you could be sitting behind the most judgmental person you know, and they would never realize you were using a vaporizer because they wouldn't be able to smell it. Medical hemp may be getting more socially acceptable every day but that doesn't mean you want everyone to know your business or be forced to listen to their complaints. Sit, relax and enjoy is all you need to think about with a MediPen in your hand.
Pure, Natural Cannabidiol Is What You're Paying For
Another thing you should always find in a complete MediPen review is a list of what is in the formula, so you can rest easy knowing you're getting the highest quality medical hemp CBD oil anywhere on the market. Extracts from organically grown ingredients, and strict quality control in preparation of its potent gold blend formula is what you pay for when you order the MediPen.
Every batch produced is analyzed for cannabinoid concentration and contaminants. If you have questions don't hesitate to ask for lab results that are always available on request. The entire process isn't inexpensive but again, if you make use of Medipen coupons, considering what you're getting for your money it's more than worth it for the results.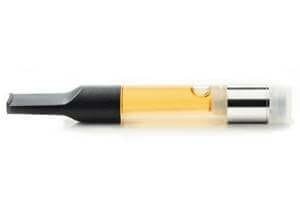 What Are Cannabinoids and Is MediPen Truly Legal?
To look at a hemp plant you might not realize there are more than 114 different compounds within known as "cannabinoids," and they are what produces the desired effect. Strains of cannabis have been developed that have had the "high" bred out of them as in they have a THC content so low it barely registers. These "buzz free" strains are where the ingredients for the MediPen comes from and they are the reason most countries that will penalize you for smoking a joint have no problems with a product like the MediPen.
Countless studies have clearly demonstrated the amazingly therapeutic effects of the hemp plant. The fact that CBD rarely interferes with prescription drugs, is not addictive and has no withdrawal symptoms can't be denied by anyone, no matter how much they might wish it otherwise. Yes, cannabis can be cultivated for maximum amounts of THC but don't forget, it can also go the other way and because a person needs to use a MediPen does not mean they are in danger of becoming a "stoner."
Be assured, the formula in this pen is purely non-psychoactive and has no mind-altering effects of any kind, therefore there are no penalties for its use.
Pharmaceuticals vs Cannabinoids
We've all seen advertisements for medications that require even more medicines to combat their side effects. That makes no sense at all but as of today anyway, that's how society is. If you're still wondering if you can afford this pen, even with MediPen coupons, calculate the skyrocketing costs of a visit to your local pharmacy (including all those "extra" medications for side effects) and the true cost of this pen gets lower and lower.
MediPen is not intended as a medical device, and neither is it a cure for illness. However, according to its many fans it certainly helps in dealing with the symptoms of disease or injury. It's safe to say unless you have an allergy to all-natural ingredients, the MediPen is safer than any artificial or man-made product.
Everyone Should Have Access to Safe Medicine
MediPen's company mission statement is simple and blunt. It's past time to clear up the false assumptions so many have regarding cannabis due to all the negative propaganda this subject has had heaped upon it for years. Social awareness in the UK of the actual helpful, healing benefits of the simple hemp plant is being raised by the people behind MediPen.
Hopefully it won't be too many more years until Pharmaceutical companies will be forced to admit defeat and set their factories up to produce healthier, less addictive hemp products.
If you would like more information on medical CBD oil follow below link.
https://www.nationalgeographic.com/magazine/2015/06/marijuana-science-drug-research-legality/