Death Star – Ruling the Marijuana Universe since 2014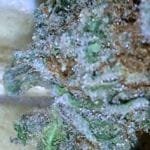 Death Star, when you hear that name it invokes a thought of an ominous,huge thing that destroys planets. Well the strain of Indica with the same name is proving to be able to do a similar feat to Americas past favorite strains. Death Star is an 80/20 Indica dominate cannabis strain made from Sensi Star and Sour Diesel. It is fast becoming Americas favorite due to long lasting effects, sweet but very skunky smell, dank taste and the high THC content it normally exhibits. You get your moneys worth when you pick some of this stuff up! I am a long time Sour D fan until Death Star replaced it in 2013, when I found my first buds at Star Buds in Denver. From that day on my quest for the planet destroying weed was my top mission. I found that at that time not to many bud tenders knew of the ominous bus of stoneyness. I told them of the stories of the great highs this creation can take you to, and the day dreaming, couch lock that comes with too much exposure.
This strain began in Ohio around 2002 and was bred into existence by a group called "Team Death Star". It took a few years to gain popularity across the U.S. Then in 2010 it made its way into the popular "High Times" magazine covers and the hands of readers and took off like a ship at Warp 10!
Death Star has features of long dark orange hairs on dark green leaves, it also can have bright colored green leaves with darker green outlining accents, with amber trichomes covering the flowers. Death Star has a pungent, earthy, skunky, very smelly aroma, many think the powerful fragrance is very skunk like in nature. Death Star is an indoors and outdoors grower, the flowering period lasts around 65-70 days.  It is one of the shorter of the growers and has smaller, very dense buds.
As a heavy indica Death Star is great for insomnia first and foremost, anxiety, appetite, nausea and depression are helped a lot by this strain also. This strain can give you a very focused feeling at times, almost too much and paranoia can be a common issue with traits like that , we suggest smoke little at a time.
Death Star has become the top contender on most cannabis related, reviewing type websites we found, making it America's favorite strain.
So go get you a Planet sized nug of Death Star and destroy some lighters trying to defeat her!!!
Iron Lungs – USAWeeD.org contributor.